Cambridge congestion charge proposal divides opinion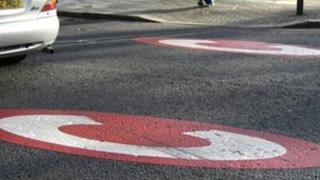 A congestion charge could be the best way to tackle gridlock in Cambridge unless a better "remedy" is put forward, an independent report said.
The 2030 Vision was published after two years of discussion between businesses, academics and members of the public.
However, while cycling campaigners support the idea some businesses claim they would suffer financially.
Three years ago plans for a charge were dropped after a hoped-for government transport funding scheme was scrapped.
About 600 people took part in discussions about the economic, educational and cultural development of the area around the city, with transport improvements identified as a priority.
Upgrading cycle routes and staggering work hours were suggested, while a plan to propose congestion charging be "embraced nationally" provoked the most reaction.
Unclogging Cambridge
Peter Landshoff, from the 2030 Vision executive committee, said: "Personally I hate [congestion charging], and I think that's true of everybody, but the question is, can one think of anything else?
"If we're going to improve public transport, that will mean more buses - how are we going to cram them in? - and nobody's suggested any remedy other than congestion charging."
John Bridge, from Cambridgeshire Chambers of Commerce, said he felt it was a "minority view" and would detract from other proposals.
"There are other innovative suggestions coming through, such as tunnels for public transport underneath Cambridge. These are the things we need to look at and pursue," he said.
Robin Heydon, from Unclog Cambridge, part of the Cambridge Cycling Campaign, said: "Road space is currently free meaning anyone can use it anytime.
"The whole of Cambridge would benefit from a charge that prices road space at times when it is congested."
Shop owner Vanessa Burkitt said charging would penalise shoppers who lived too far away to cycle, and had little choice but to use vehicles.
"A congestion charge is an incredibly 20th Century idea. It's not 'visionary'," she said.
"I was hoping for something much more creative - a better way of moving people not into the city, but around the city."
A spokesman for the county council said congestion charging was "not something we are proposing in our plans".