World Peashooting Champion blows away rivals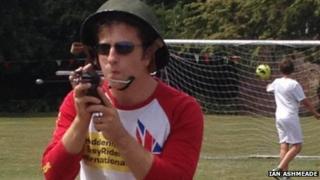 Peashooters from across the globe were blown away by the defending champion in a tense, hard-fought competition in Cambridgeshire on Saturday.
Rob Bresler, from Haddenham, had a winning score of 44 out of 50 during the final against Toby Bush.
The annual World Peashooting Championships have been taking place in Witcham, near Ely, since 1971.
Bresler said: "I believe I've got a shot at Sports Personality of the Year after what I've just been through."
Sharp-shooting dynasty
The village's peashooting tradition was started by local teacher John Tyson after he confiscated numerous blowpipes from his pupils.
Since then it has become an annual event where rivalry is rife and foul play not unheard of.
Helen Phillips won the women's title, and Team Easy Rider B were triumphant in the group competition.
But Bresler's seven-year-old daughter Madeline's victory in the children's event suggested a dynasty threatens to dominate the sport for many years to come.
Bresler said of his distinctive playing garb: "My World War II helmet is not a fashion statement."
"It's to protect the back of my head from stray peas blown deliberately in order to distract me during the competition."
Last year Bresler said he "just rocked up" to take the individual title from Ian Ashmeade.
This year, however, he and his family trained hard, setting up a target in the back garden.
His wife took part, his daughter won the junior competition, and his brother and niece also shot for pea immortality.
"There was a huge amount of pressure when I took to the field," Bresler said.
"It wasn't exactly like performing in front of the crowds on Henman Hill or Murray Mount, but the 'Bresler Flats' were pretty packed as I walked out."
Bresler, who used a blow pipe with a chin rest, stabilising weights and a laser pointer, said at 38 years old he was "pretty much at the peak" of the sport.
He said: "All the talk has been about Andy Murray winning Wimbledon this year, but he's only done that once, you know.
"I've won this championship twice now. I could well turn out to be the greatest living peashooter in the world."
Proceeds from the event go towards the upkeep of the village hall, known locally as the "Cathedral of the Pea".