Work begins on Cambridgeshire's 'Woodhenge'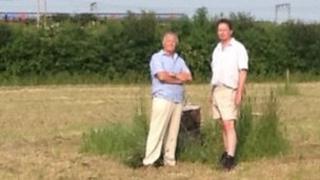 Work has begun on erecting a "Stonehenge" in Cambridgeshire made from ancient Fenland bog oak trees.
It is being built on land owned by farmer Stephen Parsley at Woodwalton and is in memory of his wife Judy who died aged 44 last year.
Artist Derek Massey, from Ramsey St Mary's, hopes his 65ft (20m) "Woodhenge" will become a tourist destination and theatre venue.
"Woodhenge" will be complete in time for an opening ceremony on 21 August.
"That opening ceremony will do it for me and I think I'll find it very moving because that'll be very close to the first anniversary of my wife's passing," said Mr Parsley.
Mr Massey's plans include an inner and outer circle of trees with seating which could be used by audiences watching theatre productions.
The structure will be made of one 200-year-old oak tree and 29 bog oaks, one of the rarest forms of timber in England, which is generally found buried in farmland.
Mr Parsley said neighbouring farmers, the Rowells and Papworths, donated some of the trees needed while "Agreserves, our neighbours to the north, kindly donated all the trees for the outer and inner circles".