Nightingales' tags reveal habitat change on migratory routes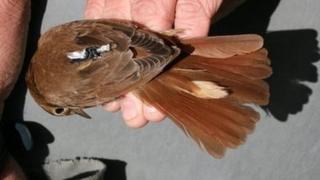 The decline of the nightingale in the UK could be due to changes in its habitat along its migratory route to Africa, a study has shown.
Last year Anglian Water and the British Trust for Ornithology (BTO) fitted 10 birds at Grafham Water in Cambridgeshire with tracking devices.
Seven birds have come back with data about their 3,000 mile (4,828 km) journey to Senegal and The Gambia.
The tracker information will be fully analysed by the autumn.
A BTO spokesman said nightingale numbers had dropped by more than half since 1995, with only 6,000 singing male nightingales remaining in the UK.
Initial findings from the geolocators show the birds, which weigh about the same as a £2 coin, make the six-week journey to Africa via northern France and Spain to Gibraltar.
They then fly along the African coast to avoid the long flight across the wide, dry Sahara Desert.
In March they begin the journey back to the UK to breed, often returning to the same bush or scrub as the previous year.
The findings confirm conservationists' views that one reason for the nightingales' decline could lie in changes to its favoured habitats along the route to their African wintering grounds.
Dr Chris Hewson, from the BTO, said: "We have known for some time that nightingales were in trouble.
"Not only that, but the bird's range is also shrinking, with almost all of them now found in the south and east of England."
The solar-powered geolocators fitted to the nightingales weighed 0.5g.
They contained an electronic clock, calendar and a light meter which made it possible to determine where the birds were at any given time.
Mike Drew, an Anglian Water biodiversity scientist, said: Having better knowledge of the nightingale's exact migratory rote and stopovers will help us understand what problems they are running into and enable us to preserve the habitats along the way, so they have good quality breeding grounds and 'service stations' to feed and rest at."