Wisbech railway petition reaches milestone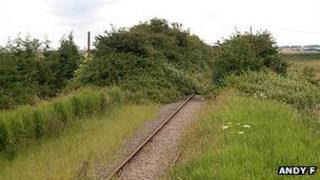 People petitioning for a rural town to be reconnected to the railway network said they have received more than 3,500 signatures to support their cause.
Wisbech station in Cambridgeshire was shut in 1968 after passenger services to March were discontinued.
Campaigners said the town had suffered socially and economically ever since and are calling for the rail link to be reinstated.
Their petition will be handed to the county council next month.
Christopher Burton said: "Wisbech is one of the few towns of its size to not have a train station.
"There is a lot of unemployment and most of the jobs in the area are in Cambridge.
"It's important that the link to Cambridge, and indeed on to London, can be fully restored."
Campaigners said they believed a direct train service to Cambridge would take approximately 40 minutes - much faster than a car journey or existing bus service.
Research by the Association of Train Operating Companies says the proposed services could serve one million passengers.