Police call threat for Richard Taylor over council filming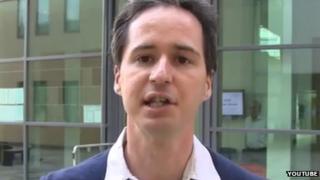 A member of the public was told the police would be called unless he stopped filming a council meeting.
Richard Taylor, 33, from Cambridge, was ordered to dismantle his camera equipment at a Huntingdonshire District Council meeting on Wednesday evening.
Mr Taylor was attempting to test guidance from Communities and Local Government Secretary Eric Pickles that such recordings should be permitted.
The council said it needed to amend its constitution before allowing filming.
Earlier in the day Mr Taylor, a citizen journalist and campaigner, said he had checked the council's rules which state the authority requires three days' notice from anyone wishing to film.
He said he contacted Mr Pickles on Twitter and received the reply: "As reported three day notice not required. Council meetings should be open."
However, at the meeting he said he was told police would be called if he refused to dismantle his tripod and camcorder.
Mr Taylor kept the tape running for 25 minutes.
On the video, posted on YouTube, the head of legal and democratic services Colin Meadowcroft is seen warning Mr Taylor: "We're going to have to ask you not to do it and, if you're not, I'm afraid we're going to have to call the police.
"We don't want to do that, that's silly."
Eventually he was allowed to continue after council members intervened.
Earlier this month, Mr Pickles underlined the right of journalists and citizens to film council meetings.
He issued guidance stating that local authorities should allow the public to film and record their meetings.
Responding to Mr Taylor's experience, local government minister Brandon Lewis said: "Councils need to get with the fact that the public should be able to report, tweet and film public meetings."
A council spokesman said: "There are processes that the council has to go through in order to amend its constitution.
"For the council to comply with the new guidance there will need to be an amendment to the constitution, which is then reported to the next corporate governance panel."
The panel is due to discuss possible changes on 24 July.