Cambridge road closure proposal 'bonkers', say residents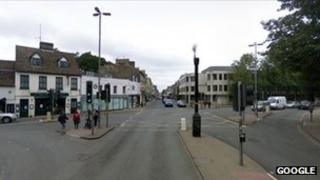 Two main routes into the centre of Cambridge could be partially closed to cars under proposals being considered by the county council.
Restricting access on Hills Road and East Road could improve public transport routes, the council said.
Residents have described the plan as "good for cyclists", "bad for businesses" and "bonkers".
The council said it was consulting on ways - "some more radical than others" - to reduce overall congestion.
The proposals are among measures being considered in Cambridgeshire County Council's Draft Transport Strategy for the city and south of the county.
Dearbhla Lawson, head of transport infrastructure policy, said: "We would expect mixed views on this.
"We're consulting on a range of measures... on how we make the best use of the finite capacity we've got."
She added: "Buses are often stuck in the same congestion as the cars.
"We need to look at how we can make the city more accessible for more people - prioritising buses, cyclists and pedestrians on some of the key routes - and enabling people to travel more efficiently in and out of the city centre.
"A lot of these ideas are just that - ideas and suggestions."
A public consultation on the transport strategy will take place from 19 July to 30 September.