Feral kittens die in Cambridgeshire haystack fire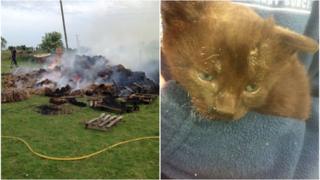 A number of feral kittens have died after becoming trapped in a haystack fire in Cambridgeshire.
Their cries were heard by firefighters when they arrived to tackle the blaze on farmland at Kings Ripton Road, Huntingdon, on Monday evening.
Three kittens were rescued, however, and taken to a nearby vet.
A spokesman said: "We were unable to save any others and those rescued were scorched and singed." The fire is believed to have started spontaneously.
Crew commander Kevin Creaton said officers cleared a number of pallets and bales of straw to rescue the three surviving kittens.