Cambridge University drinking society phallus stunt slammed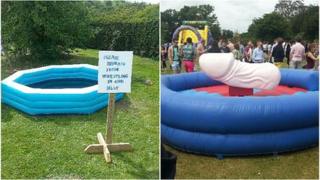 A university drinking society that cancelled a "sexist" female jelly wrestling contest, has been branded "immature" over a stunt involving a giant inflatable phallus.
A jelly-filled pool was installed at Sunday's party, but a sign read "please refrain from wrestling in our jelly".
Cambridge's all-male Magdalene College Wyverns Society also had an inflatable phallus bronco ride.
A critic of the wrestling said: "This was clearly their immature response."
The drinking club's party was one of a number of events held by university students across the city to celebrate the end of term.
Collectively the parties are known as "Suicide Sunday".
'Bring back wrestling'
The annual jelly wrestling contest organised by the Wyverns was cancelled last month after a petition set up by Nina de Paula Hanika, 20, an art history student at Magdalene College, attracted almost 1,200 signatures.
The event was, she said, "clearly sexist, misogynistic and completely inappropriate as entertainment for 2013".
The contest was halted after members of the Wyverns said they "understood the concerns".
However, a second petition started to "bring back jelly wrestling" also attracted about 1,000 signatures.
"I think it's important to say that petition was set up anonymously, and a lot of the signatures appeared to be pseudonyms," Miss de Paula Hanika said.
"Some supporters clearly weren't prepared to put their names to it publicly."
Although she did not attend the Wyverns' party, Miss de Paula Hanika said she had only heard of two male students wrestling in the jelly who were removed by stewards.
She added: "It's not my place to tell the Wyverns what to do, and I hope no-one felt pressured to take part.
"The sign on the pool was an immature response which showed it's likely they didn't understand the issues we raised.
"It's the other thing [the inflatable] that's a bit gross."