Cambridgeshire school admits giving pupils wrong GCSE paper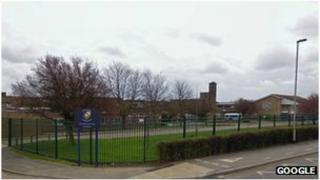 Pupils re-sitting a geography GCSE exam were given the wrong paper, a Cambridgeshire school has said.
Twelve students at St Peter's School in Huntingdon had opted to retake one exam paper in order to improve the grades they had received last year.
Head teacher Val Ford said "teacher error" led to them being given the wrong paper, which was both "unfortunate and unacceptable".
Exam board AQA was "working with us to facilitate the best outcome," she said.
The error occurred when a teacher ticked the wrong code when registering the class for the geography paper.
"The checks we have in place did not pick that up," Mrs Ford said.
'Very sorry'
The Year 11 pupils took the first paper for their geography GCSE the previous year and had already been awarded grades.
They have also submitted coursework and sat a second paper, all of which will go towards the final grade in August.
Pupils were given the option to take the first paper again, to see if they could improve the initial grade.
"After the exam one of the pupils said the questions did not seem quite right," Mrs Ford said.
"There is a one-hour period following an exam, during which students can start the correct paper, as long as it has been securely stored," she added.
Four pupils returned to the exam hall, however, part-way through, the school realised they had started the paper outside that hour.
The school has apologised to students and parents, saying on its website, "We have to accept full responsibility for the whole situation".
The statement from the head teacher added: "We are very sorry indeed that this has happened.
"We will do everything we can to ensure the outcome of this error does not impact on future choices."
Two other schools in the region have also made errors in the period leading up to exams.
Four Suffolk students and nine Cambridgeshire students discovered they had been taught the wrong A-level text - Dracula instead of Frankenstein - just days before their examinations.