Wisbech hotel murder trial: Lonely hearts woman asphyxiated
By Sally Chidzoy
Home Affairs Correspondent, BBC East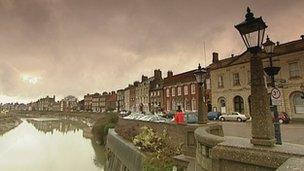 A woman found dead in a pool of blood in a Wisbech hotel room had been raped and asphyxiated, a court has heard.
Virginja Jurkiene's naked body had signs of extreme violence, including bite marks and internal injuries.
Dainotas Doblys, 49, of Boston, Lincs, had met her the previous day, 18 January, via a lonely hearts column before taking her to the Hare and Hounds, Cambridge Crown Court was told.
He denies murder, manslaughter, two rapes and one attempted rape.
Felicity Gerry, prosecuting, said: "The multiplicity and significant nature of injury leads to an inevitable inference that the defendant intended to cause really serious harm.
"All the evidence indicates he kept assaulting her until she was dead and probably beyond."
She said Ms Jerkiene died long before she was found and "the pathology is that she would have been semi-conscious or unconscious and therefore incapable of consent" .
The victim, who lodged at a house in Wisbech, was a heavy drinker who was four-and-a-half times over the legal alcohol limit for driving when she died.
She had placed an advert in a Lithuanian lonely hearts column and had exchanged text messages and calls with the defendant.
He had taken a taxi from Boston, where he lived in Trinity Street, to meet up with her.
Hotel landlady Jacqui Owens described him as "doing all the talking" when they arrived.
He appeared confident and "over-friendly" and leaned in, as if to kiss Ms Owens.
Later, he came to the bar to buy a £20 bottle of vodka, which he took back to the room, with Ms Owens not seeing Ms Jurkiene again.
The following morning hotel staff noticed water leaking from the shower room above the kitchen.
The accused came downstairs "all fresh and clean" and asked to buy cigarettes, Ms Owens said.
She told the defendant he was long past his 10am check-out time.
"That was when he said there was a problem" she said.
"I said 'what sort of a problem?' and he said 'big problem.... there's something wrong. I think she's dead'," the court heard.
She called the police and asked him "what have you done?" to which he replied "sorry landlady".
Related Internet Links
The BBC is not responsible for the content of external sites.