Witchford fire: Wood burner blamed for thatch blaze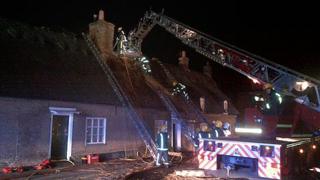 A wood burner has been found to be the cause of a blaze that threatened a row of thatched cottages in Cambridgeshire.
More than 40 firefighters were called to the blaze in Main Street, Witchford, near Ely, at 21:00 BST on Saturday.
It took 11 crews, from Cambridgeshire and Suffolk, more than two hours to extinguish the flames in the roof of the property in a row of three.
An investigation revealed a fault with the wood burner's flue was to blame for the accident. Nobody was injured.
Bruce Parcell, of Cambridgeshire Fire Service, said: "The fire was noticed by the occupiers while in the back garden.
"They immediately called the fire service which enabled the fire to be contained to the thatched roof area."