Cambridge Subbuteo sculpture for Parker's Piece rejected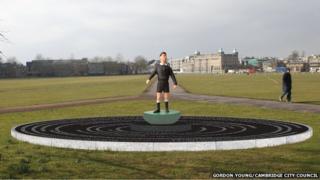 A sculpture of a Subbuteo-style referee proposed for a Cambridge park has been rejected, before the proposal even got to the public consultation stage.
The 2m (6ft 7ins) statue was planned as part of the city's claim to be the "home" of the original football rules.
The city council said negative feedback and "commercial issues" relating to Subbuteo maker Hasbro had resulted in the plan being dropped.
Artists are being invited to submit alternative designs, the council said.
Artist Gordon Young had initially been asked to create a concept design for a piece of public art for Parker's Piece in the centre of the city.
Over budget
Developer funding of £88,000 had been earmarked for the project designed to celebrate the claim that the original Football Association rules were based on those drawn up in the park in 1848 by university students.
His design represented a black and white referee on a plinth, surrounded by the original university football rules, engraved in a circle.
However, following a number of negative comments about the work, a review of the plan was led by Councillor Andrea Reiner, who took over as head of public places last month.
It found that while some "commercial issues... and underlying references" to the Hasbro game "could be overcome", the Subbuteo-style sculpture was likely to cost significantly more than £88,000.
Ms Reiner said: "This is a very important project for Cambridge, and I want to see the best possible outcome not only for fans of the beautiful game, but for the whole community.
"This has been a difficult decision, which has not been taken lightly."
She added: "I would also like to take this opportunity to thank Gordon Young for all of his hard work and enthusiasm in getting us to this point."