George Clooney and Matt Damon try out Cambridge gym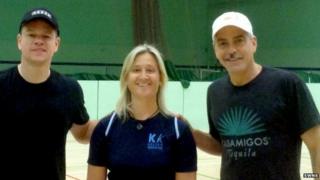 Hollywood actors George Clooney and Matt Damon surprised staff at a Cambridge gym by turning up to play basketball.
Clooney and Damon are filming scenes at the Imperial War Museum Duxford for World War II movie, The Monuments Men.
Liane Shadrack, Kelsey Kerridge gym manager, said Damon booked the basketball court for Sunday lunchtime.
"They shot a few hoops but I did feel a bit bad throwing them out after their hour was up," she said.
Film crews have been in Cambridgeshire since Friday working on scenes for Clooney's movie based on the book The Monuments Men: Allied Heroes, Nazi Thieves, and the Greatest Treasure Hunt in History, by Robert M Edsel.
'Lovely people'
The film tells the story of a group of art experts chosen by the US government who risked their lives scouring Europe to retrieve artwork stolen by the Nazis.
The cast includes Daniel Craig, Cate Blanchett, Bill Murray, John Goodman, Hugh Bonneville and French actor Jean Dujardin, who won an Oscar for his role in The Artist.
Miss Shadrack said: "We got a call on Saturday night to say Matt Damon wanted to come along in about five minutes' time to work out in gym.
"So we just let him in, and he got on with it."
Afterwards he asked if the basketball court was free the following day.
"We were completely booked except between 1pm and 2pm, but he said he'd take it," Miss Shadrack said.
Damon turned up with Clooney and two other men, and spent the hour "shooting hoops", before Miss Shadrack said she had to inform them their time was up as others were waiting to use the court.
"They were very nice, such lovely people, and they posed for some pictures and chatted with people, but they didn't say anything about the film they were making," she said.