'Sexist' Cambridge University jelly wrestling cancelled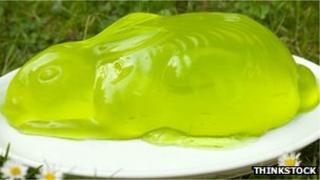 An all-male Cambridge University drinking society has cancelled its annual female-only jelly wrestling contest after it was labelled sexist.
The event, held by Magdalene College's Wyverns club, involved female students in a jelly-filled paddling pool.
Student Nina de Paula Hanika started a petition, which attracted more than 1,000 signatures, to halt the event.
The society cancelled next month's contest "in the light of the petition" saying it "understood the concerns".
Miss de Paula Hanika, 19, an art history student at Magdalene College, said the all-male drinking society event was "clearly sexist, misogynistic and completely inappropriate as entertainment for 2013".
'Knuckle-dragging morons'
She said college members did "excellent work every year to end the entrenched belief that this university is sexist and elitist, and it is exactly events like this that ruin their work".
However, she stressed her petition was not "an attempt to judge the women who have taken part in the past, nor ban jelly wrestling itself as an activity.
"I feel very strongly that women telling other women what to do is wrong, which is why the entire petition statement was directed towards the male organisers of the event."
The petition closed with 1,174 signatures - more than the 1,000 she had hoped for.
Both men and women from across the UK signed it.
One man wrote: "Lad culture not only degrades women, it makes men look like knuckle-dragging morons."
Cambridge University Students' Union's Women's Campaign published a statement from the Wyverns, which said: "In the light of the recent petition the Wyverns have decided to cancel the 'jelly wrestling' at this year's garden party.
"We, as a society, are committed to ensuring all party-goers have the best time possible and understand the concerns of some of them."
Miss de Paula Hanika tweeted on Tuesday evening: "Victory! The Wyverns have chosen to cancel the jelly wrestling at this year's event! Hurrah! Thank you everyone who signed."