Cambridge 'Subbuteo' sculpture to mark 'home' of football's rules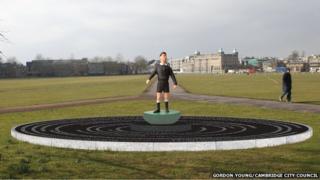 A sculpture of a Subbuteo-style referee could be installed in a Cambridge park as part of the city's claim to be the "home" of the rules of football.
The council has asked artist Gordon Young to create the 2m (6ft 7ins) statue on Parker's Piece.
It is claimed the original FA rules were based on those drawn up in the park in 1848 by university students.
The £88,000 artwork, paid for by developer contributions, will be subject to public consultation.
The sculpture, which the council stressed was "still in the concept stage", represents a black and white referee on a plinth, surrounded by the original university football rules, engraved in a circle.
'Key role'
Mr Young said he chose the colours because "laws should be black and white".
The city has long claimed to have played a key role in the development of the rules of the game, which were published by the FA in 1863.
A plaque on Parker's Piece already celebrates how the "Cambridge Rules" became the "defining influence on the 1863 Football Association rules".
Mr Young also referred to the claim as "a fact beyond argument".
The FA, however, disputes it. A spokesman said although "elements" of the Cambridge Rules were in its own version, there were "a number of differences".
Rod Cantrill, executive councillor for arts and sport at the city council, said: "This project highlights Cambridge's key role in the development of football into the modern game we know today.
"The artwork, inspired by the Cambridge Rules - and where they were first played - underlines the importance of Parker's Piece, not just to Cambridge, but to the world."
Members of the public will be able to comment on the proposal later this month and throughout June.