Cambridge railway station to get a £4m makeover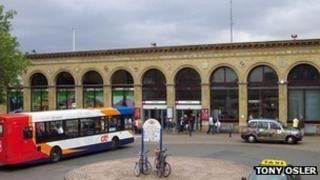 Commuters in Cambridge are set to benefit from a £4.25m facelift to the Victorian Grade II-listed station.
The cash is being put forward by developer Brookgate as part of a deal to regenerate the area nearby.
Geraint Hughes, from Greater Anglia, said improvements to the ticket hall and other passenger facilities would be constrained by its listed status.
Brookgate's Sven Topel, said it was "a difficult job" but Greater Anglia had "the vision to make it succeed".
Initial plans include expanding the ticket office area, which campaigners from Passenger Focus said was "very badly needed".
'Positive difference'
Mr Hughes agreed, describing the station as "a long way short of fit-for-purpose".
"We are very concerned about congestion around the ticket hall, not just at peak times, but on Saturdays as well - it's sheer weight of numbers," he said.
"We are constrained by this wonderful building. We'd like a lot of areas to be bigger but we have to deal with the space we've got."
Richard Schofield, Network Rail route managing director, said: "Cambridge station is one of the busiest in the east of England and this investment will make a positive difference for passengers, particularly as the number of people using the railway continues to grow."
The latest figures from the Office of Rail Regulation showed that in 2011/12, 8.8m people used Cambridge station compared to 8.25m in 2010/11 - an increase of 7%.
A public consultation will be carried out prior to the redevelopment, but the aim is to start the work in late summer, with completion by mid-2014.