Cambridgeshire brick company in six-week strike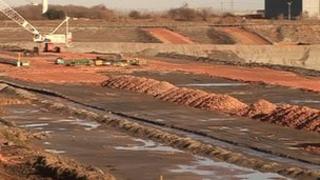 Workers at a Cambridgeshire brick factory have begun a six-week strike.
Members of the GMB union claim managers at Hanson Brick in Peterborough have cut 200 workers' holiday entitlement following a company reorganisation.
A Hanson spokesman said it had "taken the opportunity to introduce harmonised terms and conditions of employment" when it moved production to the Kings Dyke plant last year.
Affected workers had been offered £1,500 compensation, he added.
However, GMB regional organiser Rachelle Wilkins said management had reneged on a deal over the number of days the workers were entitled to take.
The Hanson spokesman said the terms offered to the staff were "generous and in line with industry standards".
He added: "It is disappointing that, having accepted the compensation payment, a small section of the workforce has now changed their minds and elected to take industrial action.
"We have a contingency plan in place to ensure the factory continues to run and production is not disrupted."