British culture guide issued to Americans moving to Cambridge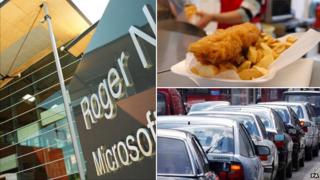 American workers moving to Cambridge have been issued with guidance on what to expect from British culture in a 44-page document produced by Microsoft.
The advice published by the software giant includes a list of "restricted goods" banned in the UK, including "narcotic drugs" and "firearms".
The document also explains that pubs are "much more than plain bars" and "chippies" sell fish and chips.
Microsoft's UK Research Facility is in Station Road, Cambridge.
About 200 staff work at the site, including many from the US.
The document, titled A Guide to Working and living in Cambridge, outlines many of the cultural differences between the countries.
It includes a glossary of terms related to buying houses, listing definitions of "estate agent", "flat", "terrace" and "town house".
The document also includes some warnings, particularly in relation to driving and medical care.
"Three factors should be considered when thinking about driving in Cambridge: heavy traffic congestion, relative lack of parking and expensive car parks, and high price of fuel in UK," it states.
'Historical character'
The NHS, although "free", has the "main disadvantage" that there can "occasionally be long waits for certain treatments", it adds.
As well as listing restricted goods, it also provides information on takeaways.
"The usual American fast food outlets are spread around Cambridge but there are also takeaways or 'chippies', selling fish and chips, a national treat," it states.
It adds: "Pubs, or public houses, are much more than plain bars. They are often warm, homely places full of historical character (and characters!)."
American Bridget Hannigan, 42, a Cambridge University communications officer who moved to the UK in 1988, said the guide was "not a bad thing".
"If someone has just been transported here I think this could be helpful," she said.
"There are a lot of differences. It took me about three months to adjust."
She joked that the advice on banned items might not be necessary.
"Thinking about the type of person that would work for Microsoft, I don't they are likely to have any firearms or fireworks," she said. "I don't think that would be a problem."
Microsoft is yet to comment on the guidance.