Peterborough City Hospital issues bed shortage alert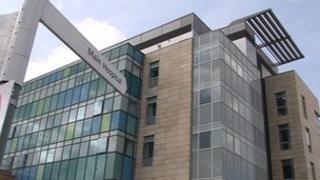 A Cambridgeshire hospital has advised people with non-serious illnesses to see their GP while it tackles a "severe shortage" of beds.
Peterborough City Hospital issued a "black alert" after having a larger than normal influx of patients who are not fit enough to be discharged.
It said people who could be discharged were also unable to leave as there were not enough care beds in the community.
The emergency department is also stretched, the hospital said.
Peterborough and Stamford Hospitals NHS Foundation Trust said the hospital had seen a rise in the number of people attending with respiratory problems, particularly among the elderly.
Angus Maitland, chief operating officer at the trust, said: "One way the public can help is to consider whether a trip to the emergency department is absolutely necessary, or whether they should seek help from other healthcare services first, such as their pharmacist, GP or local walk-in centre."