Bus-only tunnels plan for Cambridge 'realistic'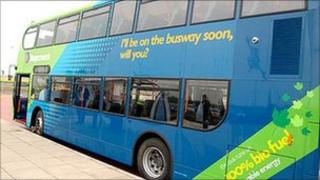 Bus-only tunnels under Cambridge are a "realistic" possibility if funds are won from the government, according to Cambridgeshire county council's leader.
The multi-million pound scheme could help ease chronic congestion in the city by taking buses off key roads.
Council leader Nick Clarke said the ideas are in their very early stages.
The success of the plan would depend on the county and city council's bid to secure funding from the government's City Deal coffers.
The Conservative-controlled county council said that if they gain City Deal status it "could bring massive benefits to the local economy and help keep more of the money generated from future growth within the local area".
'Holding back economy'
The Cabinet Office says the City Deal scheme aims to set cities free from Whitehall control - giving them autonomy over certain budgets including investment in transport improvements.
Mr Clarke said that there were signs that traffic congestion in the centre of Cambridge was holding back the economy of the the county.
He told the BBC that bus-only tunnels could be one solution "if the government Deal in the right Deal" and enable funding for the scheme.
"If we are only to get small amount of money the scheme won't be possible. We know Cambridge is a very congested city. If we can free that up we can attract companies to come here," he said.
A 2008 study into possibility of a 2.48 miles (4km) network of bus only tunnels found that the geology of Cambridge made the tunnels possible and said the scheme would cost about £190m.
Professor Robert Mair, the head of civil engineering at Cambridge University who worked on the 2008 study, said: "I don't think it (the tunnel scheme) is pie in the sky. I think it is entirely feasible. Short-length tunnels in moderately sized cities in Europe are not uncommon."
In 2011 Cambridge opened a guided busway to help to encourage the use of buses and ease city congestion.