Louis Smith's Huntingdon gym to expand after council loan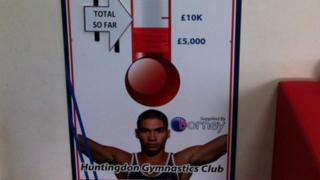 The gym where Olympic medallist Louis Smith trained, is set to expand to meet demand created by the 2012 games.
Huntingdonshire District Council has loaned Huntingdon Gymnastics Club, in Cambridgeshire, £300,000 towards its £650,000 expansion plan.
The club had secured grants towards its target, but some of those would have been lost if the total was not raised before the end of this financial year.
The council leader said the loan would secure the gym's future in the town.
The club has been trying to push through plans and raise funds for an expansion for eight years, however, the "Louis Smith effect" meant it was struggling to cope with a growing waiting list and outdated facilities.
'Brilliant news'
Smith, who was trained by the club's head coach and Team GB gymnastics coach, Paul Hall, won a team bronze and an individual silver medal in the pommel horse event at London 2012.
Mr Hall said: "Thanks to the wonderful support of the council in guaranteeing the viability of this project we can, at last, start work on the new build.
"However, to rely on a substantial loan in order to make this dream a reality is far from ideal."
The club launched its own £100,000 fund-raising campaign in October, but had only managed about £10,000.
In December, British Gymnastics gave the club a grant of £218,000 with a proviso that building must start before the beginning of April.
The council loan was approved to cover the shortfall between that grant, and others from local organisations, and enable the work to start.
Leader Jason Ablewhite said: "We are delighted we can help encourage sporting activities for all by providing this loan. The proposed expansion will help to increase the number of people using the gym and safeguard its future."
The funds will come from its reserves, or by taking out a loan itself "on commercial terms... to assist a valued community based organisation".
Club trustee, Simon Fairhall, described the 10-year loan as "brilliant news", and said the club had developed a business plan based on an increased number of users to ensure it could repay the council.