Bill Bishop jailed over Cambridgeshire crash deaths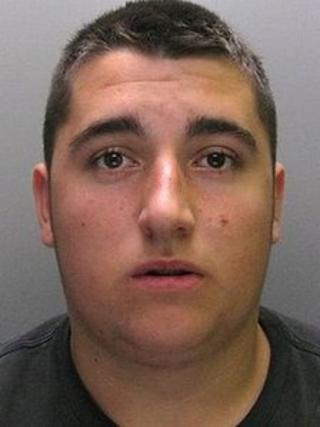 A teenage van driver who hit and killed two pedestrians has been jailed.
Dominic Iliffe, 24, and James Kiely, 27, were hit on Wimblington Road in March, Cambridgeshire, in December 2011.
Bill Bishop, 19, of Station Road, Manea, was jailed at Peterborough Crown Court for four years for causing death by careless driving.
He was also banned from driving for seven years. Bishop, who was in a Vauxhall van, was not injured.
Mr Iliffe, of Chatteries, and Mr Kiely, of Silvertown, east London, were walking in the carriageway along Wimblington Road, towards the A141, at 03:45 GMT when they were hit by a Vauxhall Astra being driven by Bishop.
'Driving far too fast'
Sgt Liz Groom, from Cambridgeshire Police, said: "We do not know why the two victims were walking in the carriageway at the time they were struck."
She added the police investigation had found Bishop "had been driving far too fast in the dark and wet conditions".
A statement released by the victims' families said: "We are pleased with today's result but no sentence will ever bring them back.
"The actions of Bill Bishop are something he will have to live with for the rest of his life and we hope this will act as a reminder to others to drive in a safe and appropriate way."