Whittlesey supermarket row: Sainsbury's is selected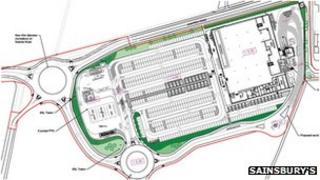 A decision to reject plans for two major supermarkets on the same road in a Cambridgeshire town has been hailed as a victory for "common sense".
An application by Sainsbury's will now go ahead after the authority previously said Tesco could also build on Eastrea Road, Whittlesey.
The 14 members of the planning committee were forced step down after last year's decision.
Tesco said it was "disappointed" and would review its options.
Fenland District Council had backed both schemes in August but reviewed the decision after legal advice suggested the decision could be "unsound".
But at a meeting on Wednesday, the council rejected the Tesco plan and backed the Sainsbury's store.
'Right decision'
Martin Curtis, a Conservative district and county councillor for Whittlesey, described the latest decision as "common sense" and a result of "people power".
"In strict planning terms, in my view, it's always been the right decision," he added.
Newsagent Steve Parker said: "Eighty per cent of the people in Whittlesey already drive at least eight miles to go to a supermarket.
"It'll save them petrol money going to Peterborough, March or Wisbech and they can spend it in the town."
A spokesman for Tesco said the company was "surprised and disappointed by the decision and it will review all its options before it decides the best way forward".
John Elworthy, editor of the local newspaper, the Cambs Times, described the situation as a "monumental foul-up".
Fenland District Council has declined to comment on its latest decision.