Cambridge tricycle plan angers taxi drivers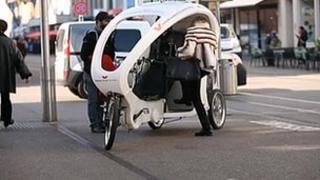 A bid to introduce electric tricycles on to the streets of Cambridge is being opposed by the city's taxi drivers.
On Monday the city council will consider whether to license Veloform UK's vehicles as both Hackney carriages and private hire vehicles.
Managing director Andrew Hutchinson said they were a "useful and fun" way to take tourists around a city.
However David Wratten, treasurer of Cambridge City Licensed Taxis, said they would add to congestion.
The battery-powered three-wheelers, also known as 'pedicabs', can carry up to three passengers and have a top speed of 15 mph (25 km/h).
'Taxi over-ranking'
Mr Hutchinson described the vehicles as "somewhere between a walking tour and an open-top bus tour".
If the company's application is approved he said he would be looking for a local operator familiar with the city and its tourist trade.
Taxi drivers, however, have expressed concern that granting the vehicles Hackney carriage licences - meaning they can use taxi ranks - would affect their business.
Mr Wratten said: "We only have 37 rank spaces for 300 Hackneys.
"There isn't enough space for the existing fleet and we'll just end up with more over-ranking and congestion problems in the city."