Cambridge Arts Theatre is given £500,000 grant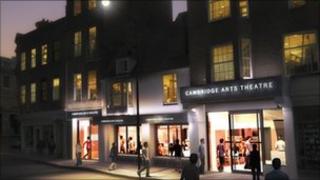 Cambridge Arts Theatre has been given a £500,000 grant to help fund its £12m expansion.
The money, awarded by Arts Council England, will be spent on redeveloping and extending the theatre's foyer.
A new 200-seat studio will also be built at the theatre as part of the Act Two project.
Dave Murphy, chief executive, said: "We are all thrilled that the Arts Council has recognised our ambitions for Cambridge Arts Theatre."
The theatre was built in 1936 and attracts more than 150,000 visitors a year.
Details of the redevelopment were announced in May 2011 but work on the project is yet to begin.
The theatre says it has raised close to £1m for the project, on top of the Arts Council England grant.
"There is still a lot of work to do and a lot of money to raise for us to be able to realise our vision for this theatre," Mr Murphy said.