Snow gargoyles attract attention in Cambridgeshire village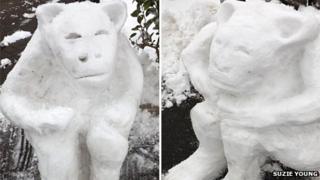 A woman who made gargoyle-shaped snowmen outside her Cambridgeshire house said she was amazed how much attention they had attracted.
Suzie Young, 37, made the two gargoyles on Monday, after shovelling snow from her drive in Fulbourn.
"I was left with two neat piles of snow either side, and thought I could do something with them," she said.
"People keep commenting and workmen are stopping to take photos. Even the binmen were doing it this morning."
Mrs Young said: "I'd taken my son to school, and I had plenty of things I should have been doing, but I just wanted to take a little time for myself.
"I was getting a bit jealous that everyone was out having fun and making snowmen. The idea of making gargoyles just popped into my head from nowhere."
She describes herself as "not an artist by any means" and said she printed a picture of a gargoyle before returning to her piles of snow.
"In the end it took about two-and-a-half hours, which certainly was not what I intended," she added.
She said her husband was quite proud of her creations which are about 2ft (60cm) high, and her nine-year-old son Findley gave her "9.7 out of 10 when he got home from school".