Cambridgeshire Police warn of ice patches on some roads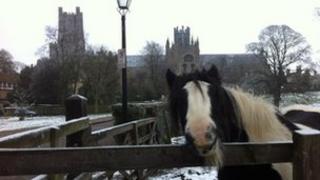 Drivers in Cambridgeshire are being warned by police to look out for ice patches on the roads that form as temperatures fall overnight.
The Met Office is currently predicting heavy snow fall across the county on Sunday afternoon.
The whole county is on yellow alert to "be aware", said the Met Office.
Mark Miller, from Cambridgeshire County Council, said the gritters will be out in force treating major routes but minor roads may still be hazardous.
Heavy snowfall on Friday afternoon led to trains between London Kings Cross and Peterborough being delayed.
Services were back to normal on Saturday but there may be some delays on East Coast routes because of engineering work in Yorkshire.
'Ghost trains'
More snow is expected across the county throughout the weekend and on Monday, the Met Office has said.
First Capital Connect, who run trains between London and Norfolk through Hertfordshire and Cambridgeshire, said snow and icy weather across its network was still disrupting services.
"Please check our live train updates page before travelling and allow extra time for your journey," a spokesman said.
"We are running 'ghost trains' overnight to do all we can to keep the lines clear of snow and ice.
"We have also placed extra staff at stations to clear snow and train engineers at key locations.
"Please take care when travelling as surfaces may be slippery."