Ex-Archbishop of Canterbury Dr Rowan Williams is Cambridge Master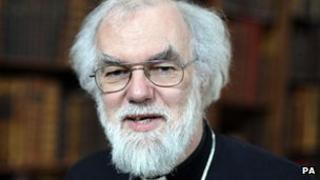 The former Archbishop of Canterbury Dr Rowan Williams has taken up his position as Master of Magdalene College at the University of Cambridge.
Lord Williams, who had been the 104th Archbishop of Canterbury since 2002, stood down in December.
The President of the College admitted Lord Williams as Master of St Mary Magdalene College during a short ceremony.
Lord Williams officially took up his seat in the House of Lords this week.
Lord Williams said: "I am delighted and honoured to be joining the College as Master. My first priority is now to get to know this richly varied community, which has already proved exceptionally welcoming to myself and my family, and to work with them all to keep the College a place of warmth and co-operation, challenge and excellence."
The president of the college Professor Michael Carpenter, said: "This is a historic and happy moment in the life of the College for Fellows, staff and students alike.
"We are exceptionally fortunate to have been able to elect such a distinguished figure as Lord Williams to lead the College, and now look forward to working with him in pursuit of our common goals of academic achievement, access and development, during the course of his Mastership."