Cambridge bids for FA football rules recognition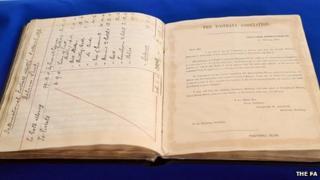 As the Football Association celebrates 150 years, an avid sports fan is hoping Cambridge will be officially recognised as the home of English football rules.
Robert Coe claims the FA rules, drawn up in 1863, were based on the 1848 "Cambridge Rules" developed by the university to standardise the game.
He is planning a "summer celebration of the true home of football".
The FA said that although "elements" of the Cambridge Rules were in its own, there were "a number of differences".
A plaque on Parker's Piece, a green space in Cambridge where many early university and town matches took place, also acknowledges the city's influence on the FA rules.
Duke of Cambridge
Erected in 2000 by a football team made up of homeless people, it states: "Here on Parker's Piece, in the 1800s, students established a common set of simple football rules emphasising skill above force, which forbade catching the ball and 'hacking'.
"These 'Cambridge Rules' became the defining influence on the 1863 Football Association rules."
It continues with quotations from FA members:
"'The Cambridge Rules appear to be the most desirable for the Association to adopt.' J.F.Alcock, F.A. Committee Member 1863.
"'They embrace the true principles of the game, with the greatest simplicity.' E.C.Morley, F.A. Hon. Sec. 1863."
Mr Coe said: "The rules were created by Cambridge University and some public schools precisely because there was no standard set of football rules.
"For the first time they created goal kicks, free kicks, goal size and the dreaded off-side laws."
In his 1991 Official History of the Football Association, Bryon Butler wrote: "Cambridge enthusiasts made the first move towards unification with meetings in 1846 and 1848.
"They produced the 'Cambridge Rules' - and, while no copy now exists of them, here was the start of it all.
"FA secretary Ebenezer Morley used elements of those 'Cambridge Rules' when drafting The FA's first laws of football in 1863, the first to be accepted by all member clubs."
Mr Coe, who described himself as the "unofficial head of the campaign to have the rules recognised", plans for a celebration to coincide with the FA's 150th anniversary are going before the city council on Thursday.
Rod Cantrill, the authority's executive councillor for sport and public spaces, said they were hoping to secure funds for "a festival and public artwork".
"This would be a celebration and permanent legacy not only of our association with the FA, but would also mark 400 years since the city acquired Parker's Piece from the university in a land-swap deal," he said.
If approved, Mr Cantrill said the council planned to write to Prince William, the Duke of Cambridge, who is also president of the FA.
"We would like to think that given his position and title he might help to move this idea forward," Mr Cantrill added.