Union urges review of Hinchingbrooke's Circle contract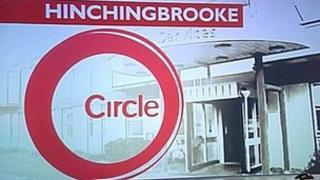 The failure of a private management company to repay a Cambridgeshire NHS hospital's debts could lead to the facility closing, a union has warned.
Circle Health took over Hinchingbrooke Hospital, which had debts of nearly £40m, last February.
Unison said it was "unlikely if not impossible for Circle to pay it back".
A Circle spokeswoman said: "We have no intention of walking away... and have made good progress in tackling the historic financial problem."
In order to pay off all of Hinchingbrooke's debts, it has been calculated that Circle would need to generate a surplus of £70m over its 10-year contract period.
'Financially-sustainable'
In a report, Unison said the company had a deficit of £4.1m. If that reached £5m, Circle could "be free to walk away from further losses" under the terms of its contract.
The union claimed that could put the future of the privately-run hospital in jeopardy, forcing patients to travel further for hospital treatment.
It has called for a "full inquiry into why the contract was awarded without asking... Circle how they proposed to generate massive promised cost savings".
In a statement, Circle said the figures were five months out-of-date and described the claims as "politically-motivated scaremongering".
It added: "Far from failing under Circle Partnership, Hinchingbrooke has become a top-performing hospital highly-rated by local patients. We currently rank fifth out of 46 Midlands and East hospitals on this measure.
"[We have] a 10-year brief to transform Hinchingbrooke into a financially-sustainable local hospital, so there are no prizes for unsustainable early wins."
The hospital's medical director, Hisham Abdel-Rahman added: "I can reassure you that we are on track to achieve what we set out to for this year which is only £3.7m deficit out of £10m.
"Because of that we are set for a £7m challenge for next year and we are absolutely confident that we have done the transformation and gone through all the efficiency programmes of this year [to achieve that]."