Wisbech crash death campaigners meet justice secretary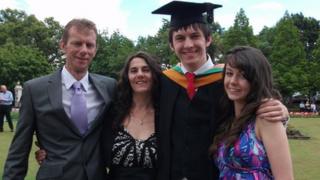 The family of a man who died when he was knocked down by a speeding car has met Justice Secretary Chris Grayling to call for tougher penalties.
Jamie Butcher, 22, was killed crossing a road in Wisbech in 2011, when a driver ran a red light at 58mph.
His family started its Justice for Jamie campaign, branding the driver's 43-month sentence "totally inadequate".
Stepfather Steve Green said: "We hope Mr Grayling will order a review of guidelines and toughen things up."
Mr Butcher, a psychology graduate, was killed instantly in February 2011 when Michael Moore, 40, of Murrow Lane, Parson Drove crashed into him on a pelican crossing, propelling his body 40m (131ft).
'Constrained by guidelines'
Moore was jailed for causing death by dangerous driving, but Mr Green said he expected him to be released after two years, which he described as "ridiculous".
"There's a maximum of 14 years for this type of crime and from figures we've had from the Ministry of Justice, that maximum sentence has never been used," he said.
"The reason for that is because judges are constrained by the guidelines at present.
"There are things that count in favour of the accused, things that count against and it's basically a totting-up procedure to end up with a sentence."
After the meeting, Mr Grayling said: "No one can fail to be moved by hearing the stories of victims like this.
"Every case will always come down to the decision of a judge, but I agreed to look more closely at the problem and to ask the Sentencing Council to do the same."
The family's campaign has been backed by North East Cambridgeshire MP Stephen Barclay who set up his own e-petition Stop Dangerous Drivers.
He said: "The sentencing guidelines are actually preventing judges from imposing the higher level... and justice does not seem to have been done."