RAF fireman 'forced to quit' Cambridgeshire retained crew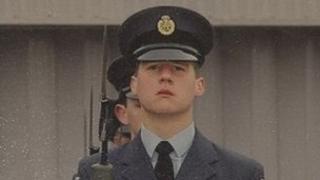 A retained firefighter in Cambridgeshire has been forced to quit because he is in the RAF.
James Chalklin worked with retained crews in Soham for a year before he was told it was against policy to employ people in the armed forces.
He is an RAF firefighter and left for a tour in Afghanistan on Tuesday. His father, Brian, said he could not understand the fire service's decision.
The service said it was impractical to employ people who could be called up.
Mr Chalklin, 23, assisted the fire service when required during his free time, but problems arose when he spoke to the fire service about his posting to Camp Bastion.
'Discrimination'
His father said his son had been clear that he was in the RAF on his application form, but was subsequently told he would have to resign or be sacked.
"He [James] is a firefighter in the RAF and he wanted to do something for the community," said Brian Chalklin, a retained firefighter himself for 20 years.
"I think it's discriminating against the military."
He added that his son, who is based at RAF Honington in Suffolk, wanted to be a civilian firefighter when he left the armed forces.
The fire service said it had no plans to change its policy since members of the military could be called up to serve overseas at any time, and for months at a time.
It is currently advertising for retained firefighters at Soham and other stations across the county.