Solar panels for Cambridge's Trinity College backed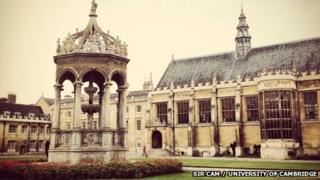 Solar panels can be added to the roof of a Cambridge University college despite objections, city planners have ruled.
Plans were submitted to refurbish the 200-year-old, Grade I-listed New Court at Trinity College to improve its accommodation and energy efficiency.
English Heritage and Cambridge Past, Present and Future were among groups who opposed parts of the refurbishment.
A final decision will be made by the government.
Works planned for the Tudor Gothic building include refurbishing its student accommodation and offices and creating en-suite study and teaching rooms.
Insulation work will also be carried out and a ground source heat pump installed for the building, which currently fails to meet new environmental health and fire service regulations.
It is hoped the energy-efficient measures will reduce carbon emissions in the entire building by 88%, the engineering firm behind the project said.
'Harmful installation'
Cambridge City Council's planning committee recommended the full refurbishment plans, stating the works would "not harm the character or fabric of the listed building".
English Heritage said: "We believe that the building's performance can be greatly improved without the harmful installation of double glazing and the unnecessary lining of the external walls of the building.
"We are however, pleased that the proposals have been amended since our initial advice to the council to reduce the visibility of the planned solar panels, but we still remain concerned about the proposals overall."
Carolin Gohler from Cambridge Past, Present and Future, said: "They are not putting them [solar panels] within the court or visible from the court, but you still can see them from Garret Hostel Lane.
"Because it's a Grade-I building really there needs to be exceptional reasons to put these sort of panels on them if they're still visible."
Trinity College said: "[New Court] is almost 200 years old and in need of substantial work to meet modern fire safety and environmental standards.
"We regret that it has not proved possible to reach agreement with English Heritage on all the details."
Trinity College was established in 1546, but New Court opened in 1825 following a greater need for student accommodation.
It currently houses a large proportion of the college's second and third year undergraduates, as well as some graduates and fellows.