Public consultation on 9,000 new South Cambridgeshire homes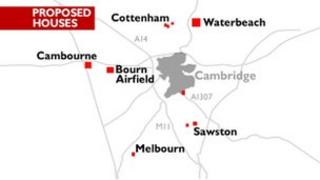 Plans to build 9,000 homes including a new town at Waterbeach Barracks and a new village on Bourn Airfield have gone on display.
Views on how South Cambridgeshire should be developed over the next 20 years are being sought at 13 events around the area.
The homes would be in addition to other developments, including the 10,000 already approved at Northstowe.
The public consultation runs until 18 February.
Feedback will be used, along with responses gathered from an initial consultation last summer, to shape the draft development plans up to 2031.
The proposals are due to be sent to the Planning Inspectorate at the end of next year.
The plans can also be viewed on South Cambridgeshire District Council's website.