Whittlesey row: Council to decide on Tesco or Sainsbury's store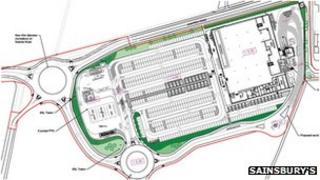 A special council meeting is to be held over a final decision on plans for a Sainsbury's or a Tesco store in a town in Cambridgeshire.
Both supermarkets wanted to build stores on Eastrea Road, Whittlesey.
In August 2012, Fenland Council backed the Sainsbury's scheme and rejected the Tesco plans, but then in September backed the Tesco scheme as well.
The council's lawyer said the decisions may have been unsound and both schemes will be looked at again on 23 January.
At the August meeting, officers had recommended rejecting the Sainsbury's scheme and backing the Tesco scheme.
'A lot of embarrassment'
Council lawyers said that if the decisions were challenged and the committee could not show valid planning reasons it could face compensation claims.
The council will now look at both schemes at a meeting at the Manor Leisure Centre in Whittlesey.
In October 2012, all 14 members of the council's planning committee were ordered to stand down and a new committee was constituted.
Leader Alan Melton said at the time: "The barrister informed us that member behaviour raised a number of issues, and that the reasons for the planning committee decisions were not substantial planning reasons with which to overturn officer advice.
"Something has gone seriously wrong and caused a lot of embarrassment to the council and to councillors, which is why we've taken advice from our counsel to re-run the whole process."