'Rare' Indonesian dragons hatched by Cambridgeshire breeder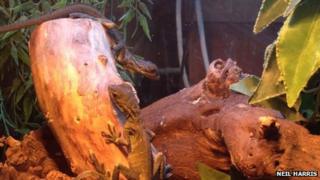 A reptile breeder has hatched what he believes to be the first captive-bred Indonesian Sailfin Dragons in the UK.
Neil Harris, from Hardwick in Cambridgeshire, said he was "amazed" when the two females - named Betty and Wilma - arrived on New Year's Day.
"They are very rare and difficult to breed, so we're thrilled," he said.
Richard Brook, from the International Herpetological Society, said: "To the best of our knowledge these dragons have not been bred here before."
Mr Brook, treasurer of the society whose members breed and show reptiles, described the dragons as "an impressive animal".
"They are quite a rare thing in this country," he added.
'Breeding programme'
Mr Harris said he and his colleagues had also not been able to find any records of other sailfin dragons being hatched in the UK.
The three-inch (7.5cm) reptiles, which are native to South East Asia, will reach about four feet (120cm) when mature.
They feed mainly on fruit and vegetables, "with the odd mouse or locust thrown in for good measure", Mr Harris said.
Although there is a market for the reptiles, he said they would not be sold.
"We have found two single sailfin dragons - one at a zoo in the Netherlands, and one at a Polish zoo - but at the moment we don't know whether those are male or female.
"Betty and Wilma may be able to be part of a breeding programme when they are older."
After laying a number of infertile eggs, the mother laid fertile ones in August, which Mr Harris incubated for 90 days.
"Since then she has laid two more fertile eggs so we will hopefully have two more dragons," he said.
Gary Powell, senior reserves manager at the Dorset-based Amphibian and Reptile Conservation Trust, said: "They are threatened in the wild because their habitat is being destroyed. So it could be considered an achievement to have bred them here."