'Confused' motorist drives over Cambridge cycle bridge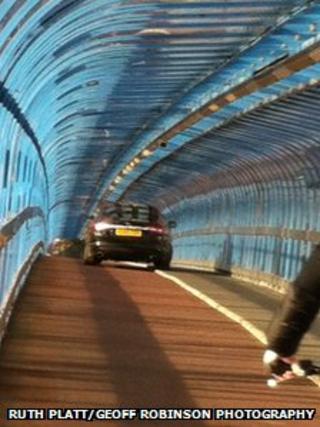 Cyclists in Cambridge were startled when a motorist drove across a cycle bridge before realising his mistake and reversing back down.
A bollard had been stolen allowing the Jaguar driver to enter the bridge between Rustat and Devonshire roads.
A Cambridgeshire County Council spokesman said the bollard had now been replaced.
Teacher Ruth Platt, who witnessed the incident, said the driver had made a "genuine mistake" and no one was hurt.
'Very apologetic'
She said a number of cyclists had dismounted to speak to him during the incident on Friday morning, but no one was in danger as he was reversing "very slowly and cautiously".
"I saw him trying to reverse from the top of the bridge but I was told he had driven the whole way and was still trying to get back," Mrs Platt said.
She offered to assist the driver, thought to be in his 50s.
"He said he just needed to reverse very slowly back down the bridge," she said.
"He was very apologetic and very aware that there were children around.
"There was a lot of creaking because of the weight of the car. It's a lot heavier than all the bikes that use the bridge," she added.
The council spokesman said the incident would not have damaged the bridge which has "sufficient loading to take the weight of a vehicle".