Guinness World Record holder Marjorie Ruddle, 105, dies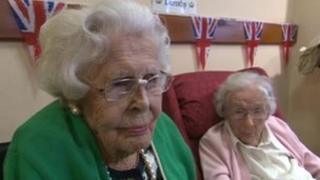 A 105-year-old woman from Cambridgeshire who was one of the world's oldest siblings has died.
Marjorie Ruddle and Dorothy Richards, 108, were named by Guinness World Records in June as having the highest combined age of two living siblings.
Mrs Ruddle passed away at her Peterborough nursing home on Boxing Day, her daughter Pat Comber said.
She described her mother as a much-loved, strong and persevering woman who loved to see all her grandchildren.
"She had a fall on 16 December and went into hospital and I think she was so shocked by the fall that she never really recovered," Mrs Comber added.
"But she was able to go back to Park House, her nursing home, on Christmas Eve, and be with the wonderful staff there."
Mrs Comber said it had been a "lovely" event last summer when the sisters were reunited and celebrated with several generations of their families.
Mrs Richards lives at a care home in Stamford, Lincolnshire, and was taken to her sister's Peterborough home for the special occasion, which marked them having an aggregate age of 213 years, three months, and 27 days.
'Rather embarrassed'
Speaking to the BBC at the time, Mrs Ruddle said: "I haven't seen her in ages, so it's very nice to be able to see her again."
She added that she felt "rather embarrassed" by all the media attention, and said the secret to long life was hard work.
Mrs Ruddle was born on 21 April 1907, the same year as actors Katharine Hepburn, John Wayne and Lord Olivier.
She grew up in Northampton, where the girls' father ran a men's shoe factory, GT Hawkins, and after school went to the Buckingham Palace College of Domestic Science.
But both she and her sister, who trained in London in physical education, had to abandon any future career to help run the family home after the death of their mother.
She married her first husband, Dr James Robertson Wills, in Northampton in 1932.
The couple later moved to Peterborough where he had a practice in Lincoln Road, and had two sons and a daughter.
Later in life, after the death of Dr Wills, she married Peterborough architect Allan Ruddle and until July 2011 had lived in her own home in the city with full-time carers.