Wallaby named Wilf living in Cambridgeshire garden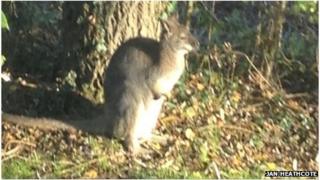 A friendly wallaby has taken up residence at the bottom of a family's Cambridgeshire garden.
Jan Heathcote's partner noticed the animal two days after they moved into their new home near Warboys.
"He thought it was a kangaroo or a giant hare, and I thought he'd had one too many the night before," she said.
"We've named the wallaby Wilf and told the RSPCA about him. They said he seemed happy and healthy and we should just keep an eye on him."
The couple moved into their house at the end of November, and Ms Heathcote said the wallaby had been in the garden most days since then.
'Wilf is welcome'
"Some mornings he's here for about four hours, and then he comes back in the evening," she said.
"We tend not to see him for two or three days at the weekends - perhaps he's a bit of a party animal.
"Wilf is quite tame and quite healthy by the look of him. He comes and feeds quite regularly and even plays with the cats, although I saw one of them chasing him out of the garden the other day."
RSPCA officers told the couple the wallaby probably has a burrow close to the garden.
Wilf the Warboys wallaby is not the first to have been spotted in Cambridgeshire.
In October a taxi driver spotted a wallaby on the A603 at Barton, about 25 miles (40km) from Warboys.
Ms Heathcote said having a wallaby at the foot of the garden was a "delightful surprise" for the family.
"It just makes things idyllic," she said.
"We wanted a nice quiet home and that's what we got. Wilf is welcome here anytime."