Cambridge's Mill Road Cemetery tombs 'used to sleep in'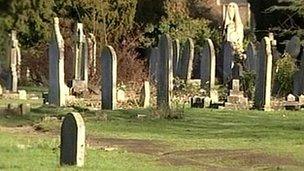 People are moving the lids from tombs in a Cambridge cemetery so they can sleep in them for the night, police have said.
The cemetery is between Mill Road and Norfolk Street.
PC Alan Tregilgas of Cambridgeshire Police said in a statement that in some cases "tombstone lids have been pushed off so they can sleep inside them".
A spokeswoman for the cemetery said she had not seen any evidence of people sleeping in the graves.
Maintained by Cambridge City Council, the cemetery was purchased in 1847 for use by 13 parishes as extensions to their already over crowded graveyards.
The site is grade II listed on the English Heritage register of parks, gardens and cemeteries and has a number of listed monuments.
PC Tregilgas said: "It is not unusual to find drunken persons sleeping in this area."
The Reverend Margaret Widdess, secretary of the committee that represents the parishes, said: "The cemetery is open to the public and that includes people who are down on their luck.
"Sadly, graves are sometimes vandalised, but there has never been evidence that this is linked to the people sleeping rough in the cemetery."
Ms Widdess said many people used the cemetery, including "people who are drinkers, drug takers or who are homeless".
She added: "We have never seen any evidence of the heavy masonry lids of the graves being shifted to allow people to sleep in them.
"If it gets to the point where members of the public are feeling harassed or unsafe then we work with the police and the council."
Related Internet Links
The BBC is not responsible for the content of external sites.