The Rose Pub: Flood cancels Stapleford New Year's Eve party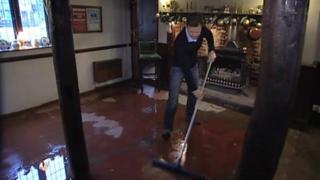 A pub in Cambridgeshire has been forced to cancel its New Year's Eve party after it was flooded when a pumping station failed.
The Anglian Water pumping station near to The Rose in Stapleford stopped working on Sunday night. It was the third failure in a week.
"It's a prosperous New Year's Eve down the drain," said landlady Karen Beer.
Anglian Water said it was sorry for the flooding and added that recent weather had proved "challenging".
Ms Beer said cancelling the party has lost the pub just over £4,000. About 100 people were due to attend the event.
She added: "We have a lot of regular customers who've supported us over the years and it's such a shame to have to disappoint them."
A spokesperson for Anglian Water said: "We're very sorry for the flooding that The Rose has again experienced.
"This is all linked to the recent terrible weather and the fact that, unusually, two of our pumps in a nearby pumping station failed on two occasions.
"We attended as soon as we could to restart the pumps, but not before water had flooded into the pub.
"We have spoken to the owners of the pub to apologise, and will be keeping a close eye on the pumping station over the next few days."
The spokesman said Anglian Water will be launching a full investigation, but early investigations have shown the failure was the result of "fluctuations in the power supply to the pumping station causing the pumps to cut out".