Louis Smith's 'proudest moment' as he is appointed MBE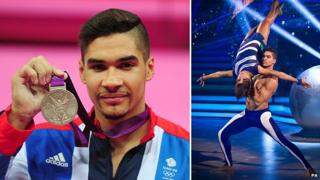 Olympic gymnast and Strictly Come Dancing winner Louis Smith has been appointed MBE in the New Year Honours.
The 23-year-old, from Peterborough, won silver at the London games and the Glitterball trophy for his television performances with dancer Flavia Cacace.
He said the MBE was "without a doubt the proudest moment of my life".
His Team GB coach, Paul Hall, and Paralympian sprinter Johnnie Peacock, both from Cambridgeshire, have also been appointed MBE.
Smith, who took silver on the pommel horse and also won bronze in the team event, said: "To receive this honour is out of this world and something I never would have dreamt of as I grew up in the sport of gymnastics.
"This year has been like no other for so many reasons.
'Team support'
"For me it's obviously one I'll never forget and I wasn't sure it could get any better, but to be awarded an MBE is the icing on the cake."
He trained under Hall at Huntingdon Gymnastics Club.
Hall, who was appointed MBE for services to gymnastics and the London 2012 Olympic and Paralympic Games, said: "The MBE is wonderful news and completely out of the blue.
"2012 has really been a year to remember. If anyone had told me we'd get the Olympics and then this award on top, I would not have believed it.
"I feel very appreciative to all the team at the gym club. Without their support I would not have been able to be involved with so much."
Smith added: "I'm absolutely overjoyed for Paul and it's incredible to know that he is being rewarded in this way for everything he has done for me and my team-mates, for Huntingdon Gymnastics Club and for the whole sport over the course of his career."
Scientists, local historians and community volunteers have also been honoured.
Championing classics
The curator of the Norris Museum in St Ives, Bob Burn-Murdoch, was appointed MBE for services to the heritage of the town.
After 32 years of running the museum and documenting the history of St Ives, Mr Burn-Murdoch is retiring on his 60th birthday at the beginning of January.
"It's been a busy job and there's a lot of it, so I think it's time to take a bit of a rest," he said.
"Of course I am amazed and delighted to be appointed MBE, but what happens at the museum is very much a team effort.
"We have had so much help from the town council, friends of the museum and so many other groups and individuals.
"This is very much for all of them."
A number of academics from Cambridge University are also on this year's list, including Prof Mary Beard, who has become well known for championing the importance of Latin and Greek.
The classics professor was appointed OBE.
She said: "You feel terribly flattered and delighted, but the most important thing for me is that this is a validation of the subject I teach.
"You can still get public recognition for working with the ancient world and this says that this country recognises the importance of Latin and Greek."
She added: "This is also for my colleagues who teach classics to undergraduates every day of the week."
Other people from Cambridgeshire to be recognised in the New Year Honours list are:
CBE
Dr David Douglas Cleevely, founding director of the University of Cambridge's Centre for Science and Policy, for services to technology and innovation
Sherry Coutu, investor, for services to entrepreneurship
Professor Francis Patrick Kelly, FRS, professor of the mathematics of systems, University of Cambridge, for services to mathematical science
Stephen Munday, executive principal, Comberton Village College and national leader in education, National College for School Leadership, for services to education
OBE
Keith Nancekievill, former head teacher, Hinchingbrooke School, for services to education
Caroline Neville, former executive director of the Skills Funding Agency, for services to further and higher education and the skills sector
Dr Miles Michael Parker, director, strategic evidence and analysis, Defra, for services to improving government science
Professor Janet Todd, president, Lucy Cavendish College, University of Cambridge, for services to higher education and literary scholarship
MBE
Pamela Beatrice Mary Blakeman, local historian, for services to heritage in Ely
Caroline Alberta Hansford, founder, Malawi Education Link, for services to primary education in Malawi
Dr Martin Jones, chair, policy advisory committee, United Kingdom Accreditation Service, for services to accreditation
Anne Murray, lay member, Academy of Medical Royal Colleges and Faculties, for services to healthcare
Jonathan Peacock, sprinter, for services to athletics
Felicity Anne Pugh, for charitable services in Cambridge
David Cyril Elliot Ridgeon, vice-chairman, Ridgeon Builders Merchants, for services to the builders merchants industry and to the community in Cambridgeshire
Ronald Arthur Stanley, senior systems engineer, Ofcom, for services to spectrum engineering
Dr Charles Winthrop Molesworth Swithinbank, glaciologist, for services to exploration and research in the Antarctic
Erica Grace Towner, former director of partnerships, University of East Anglia, for services to higher education
BEM
David George Fairchild, for services to the communities in Haddenham and Aldreth
Jill Hucklesby, for services to the community in Peterborough
John Colyer Hucklesby, for services to the community in Peterborough
Joyce Mitchell, club leader, Cambridge Physically Handicapped Able Bodied Club, for services to the community in Cambridgeshire
Margaret Ruth Perryman, for services to the community in Huntingdon
June Wilson, for services to the community in Brampton