Fan builds Canvey Island FC stadium model out of Lego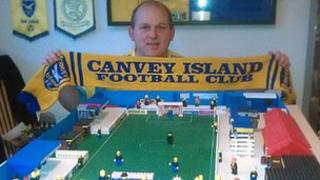 An Essex football fan has spent two months building a homage to his favourite team's ground using Lego.
Jason Dorrington, 39, of Gafzelle Drive, Canvey, has built a replica of Canvey Island Football Club's stadium.
He said he did not know how many bricks he had used, but the project cost him about £180.
Mr Dorrington said his fiancee "thinks I'm nuts" and would like to start using their dining table - currently home to the stadium - again.
He said he got the idea to recreate the Prospects Stadium after going to Legoland in Windsor.
'Amazing detail'
"I was walking around the village and thought 'it looks brilliant', and thought I'd do a Lego Canvey FC," he said.
"My fiancee at first encouraged me but then it just carried on getting bigger, and now she's fed up we can't use the dining room table."
Mr Dorrington, who has lived in Canvey all his life, goes to every home game of the club and volunteers to sell match-day programmes.
"The supporters at the ground call me Yoda [from Star Wars] and so I have a Lego Yoda as one of the figures," he said.
Chris Suton, a director at Canvey Island FC, said: "The club feels privileged to have something like this.
"Jason is a very loyal supporter and he's taken a great deal of time to make this work. We'll be very proud to have his model in the boardroom to show to visitors.
"The attention to detail is amazing, even down to reproducing the advertising hoardings. It's taken a lot of effort."
The club has rewarded Mr Dorrington for his efforts with a framed shirt signed by the club.
Home and away fans will have an opportunity to see the model when it goes on display in the Canvey Island FC club house during the game on New Year's Day.