Hauxton homes contamination report 'must be verified'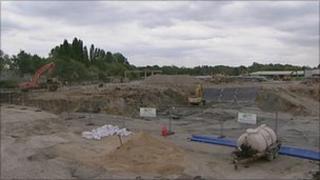 A report into whether land has been successfully decontaminated so houses can be built must be independently verified, a campaigner says.
Plans for more than 200 homes at the Bayer CropScience site in Hauxton have been approved by South Cambridgeshire District Council.
They will only be built if a report produced by the developer can show it has decontaminated the site.
Graham Ford, who lives nearby, said he was concerned about health issues.
Developer Harrow Estates monitored groundwater samples for six months in 2011, before submitting its report to the council last October.
The factory on the site, established in Hauxton in the 1940s, produced pesticides and herbicides which were found to have contaminated the land.
'Noxious fumes'
Outline planning permission was granted in 2010 on condition the former agrochemical contamination was fully cleaned up.
During work to clean up the area, residents complained about "noxious fumes" and formed a group, HauxAir, to "campaign for clean air" in the village and surrounding areas.
However, the Environment Agency said doctors, engineers and scientists had investigated the odour and determined it had no effect on human health.
Mr Ford, the former chair of HauxAir, said: "We always told the council it was vital that contamination on the site was properly removed before any building should start, and that it should be properly, and independently, verified.
"The danger is we could end up with hundreds of new homes and find out later down the line that there are health problems for the residents."
The final test results are currently being reviewed by the Environment Agency and council experts in consultation with the Health Protection Agency.
A further two development phases, bringing the total of new homes to 380, have yet to be approved.
Nick Wright, the district council's cabinet member for planning, said: "No work will begin until the remediation reports have been fully assessed and the experts can say in no uncertain terms that the land meets the stringent standards and is fit for homes to be built on."