Christmas dinner held the 'diplomatic' way in Cambridge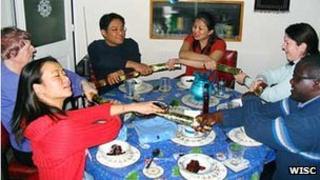 While you are sitting around the table this Christmas, spare a thought for Joy Seddon, who is preparing a rather complicated dinner.
With the great student exodus ending in Cambridge for another year, the retired teacher is busy organising a party the UN would be proud of, by hosting a houseful of "forgotten" foreign students who are left behind during the holidays.
Ms Seddon is expecting nine people this Christmas, after hosting student parties for the past 12 Decembers, but depending on who turns up the number could rise to 14, making this year's menu difficult to prepare.
"We have it very traditional - I don't think there's anything missing on the table - but I have to remember that I could have six different faiths at my table," said Ms Seddon.
"I have Buddhists, Hindus, Jews, atheists, Christians, and of course some of them are on varied requirements of diet, so I do things accordingly.
"But I just explain what's got pork in, what's got beef in and then we have no problem."
'Sitting in their rooms'
Ms Seddon has provided voluntary hospitality to 300 foreign students during various holidays since she started the Welcome International Students of Cambridge (WISC) society in 2000.
Each year her city house becomes an open door for students who want to experience an English Christmas, and her generosity is in high demand.
Sitting around this year's table will be people from Taiwan, China, Singapore, Malaysia, Uganda and Australia.
Some graduated years ago, but have enjoyed past Christmases so much they are returning.
"If I wasn't here many would be sitting in their rooms with their computers," Ms Seddon said.
"They see the English students go off in their cars with their mummies and daddies helping them and they're left behind. Many students, particularly from the Asian countries, can't easily get home or afford to get home.
"They often have to move because the colleges close off certain rooms - some colleges close off for meals for about 10 days.
"It stops them from feeling very lonely."
Ms Seddon said while her home provides somewhere to go, it also provides the students an insight into English culture and a celebration far removed from what many have witnessed.
Some come on Christmas Eve and watch the famous King's College carol service on television, help decorate the tree and in the morning they find a stocking on their bedroom doors.
By midday the next day, the food is ready and the champagne begins to flow.
In the afternoon, the music and the games come out, including Ms Seddon's favourite - cribbage.
"I think we have some wonderful traditions and I do think we should be keeping them," she said.
"The people I'm entertaining are at the top and they'll go back to their country ultimately to be world leaders or leaders in their field.
"I'm doing it as a diplomatic thing - I want them to go back with a good impression."
In fact, professional diplomats could probably learn quite a bit from Ms Seddon.
Born in Argentina before moving to Cambridge as a child, she has spent her life touring the globe, teaching in places including Africa and Latin America.
Having visited so many countries, Ms Seddon said it makes conversation at the table very easy.
"I was born in Rosario, where Messi was born, so I love talking about sport with them. I love music, I love buildings and I love travel. You have to be a very rounded person to go into what they like."
Software engineer Gordon Lee, from Malaysia, graduated in 2006, but at the age of 39 is looking forward to his eighth Christmas in the volunteer's home.
"It was initially very fresh coming from a different life culture. I remember the first Christmas I sat and watched Mary Poppins," he said.
"I think it's very important and helps to build bridges. It's a very noble thing."