Environment Agency fined £200,000 over crane driver death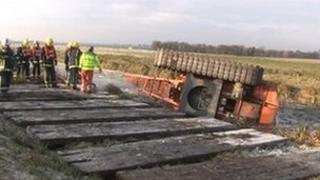 The Environment Agency has been ordered to pay £228,000 after pleading guilty over the death of one of its crane drivers in Cambridgeshire.
Simon Wenn, 43, died when the 27-tonne crane he was in collapsed into a frozen drain and he became trapped in the cab at Mepal in the Fens in December 2010.
The Environment Agency was fined £200,000 and told to pay £28,000 costs at Cambridge Crown Court.
It had admitted breaching section 2(1) of the Health and Safety at Work Act.
Two other charges brought by the Health and Safety Executive (HSE) were dropped.
'Loss still felt'
The guilty plea was submitted at an earlier hearing.
Mr Wenn, who was married and had three teenage children, lived in the village of Three Holes and had worked for the agency since 1992.
He was desilting a drain on 8 December 2010 when his crane collapsed into the ice-covered water.
Fire crews sent to the track, off the A142 near the Old Bedford River, broke the cab's glass so Mr Wenn's head and shoulders were above water but he was found dead.
The Health and Safety Executive has said more could have been done to safeguard Mr Wenn and the Environment Agency had failed to discharge its duty to ensure the safety of its worker.
Investigating officers said in the freezing conditions the work should have been suspended.
'New procedures'
The executive outlined failures in planning, training and supervision and said the agency had failed to implement recommendations after a similar incident two years before.
The Environment Agency's regional director Toby Willison said: "Simon was a popular and highly valued member of our operations team whose loss continues to be felt by friends and colleagues at work.
"We take health and safety very seriously and immediately after the accident we mounted a full independent investigation into the circumstances surrounding the incident.
"We have also worked closely with the Health and Safety Executive, emergency services, our employees and the wider construction industry to develop new procedures for working on mats which did not exist before.
"These are being used within the Environment Agency and we have shared them with the Construction Plant Association to try to ensure that no-one else suffers a similar accident."