Christmas tree put up for 82nd year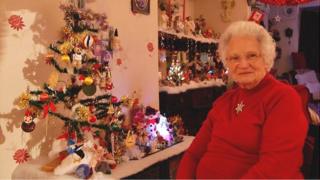 An artificial Christmas tree bought in 1931 has been put up for its 82nd year by a woman in Cambridgeshire.
Brenda Downham, 78, said her mother bought the 2ft tree from the city's Woolworths store in 1931 for one shilling and six pence.
Despite its age and "tattered" box, she said it was very sturdy and made her home feel "warm and cosy".
The tree is put up on the 10 December every year to mark the passing of her son David, who died in 1981.
Over the years, Mrs Downham said the family had collected dozens of decorations for the tree and every year it is brought out from the bedroom cupboard and put up in the living room.
Pile of rubbish
"It's still got the original box - it's a bit tattered and all that, but it goes in and collapses right up to more or less nothing," she said.
"When my mother died my eldest sister had put it in the pile of rubbish she was throwing out of my mum's. I got it out and she said, 'You don't want that old thing, that isn't a tree no more', but I said, 'Yes it is, it's my tree'."
The former retail worker, who lives five doors down from where she was born, said she had promised her son she would keep the tradition going.
She said: "My son died of a form of cancer and when my father died my mother wouldn't decorate - she never got the tree out.
"But we promised David before he died that we would always have the tree up - and we always have done.
"My son Kevin always put his tree up on the same day too. It will go up for as long as I live."