National Trust MyFarm: Virtual project ends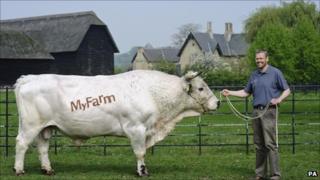 Can you be a farmer without ever getting dirt under your fingernails or manure on your wellies?
Those who took part in the National Trust's online "virtual farm" experiment, certainly learnt some "farming fundamentals" from the comfort of their armchair, according to Richard Morris, one of the people behind the project.
The MyFarm project, which has come to a close after 18 months, aimed to reconnect people with where their food comes from and highlight decisions farmers faced.
Based at Wimpole Home Farm in Cambridgeshire, the project attracted hundreds of "virtual farmers", who initially paid a £30 annual fee for the privilege of helping to run the 1,500-acre (600 hectares) farm via a dedicated website.
"Many people have the opportunity to grow their own food, but few - if any - have the opportunity to be involved in large-scale food production," Mr Morris, the farm's manager, said.
"We hoped to encourage people to understand some of the real decisions farmers make every day in this country to put food on people's tables."
'Significant contribution'
"Virtual farmers" signed up from all over the UK and abroad, and ranged from retired farmers to school groups.
The dedicated MyFarm website included discussion forums and regular votes where subscribers could have a say in which animals should be bred and which crops planted.
However, Mr Morris said public involvement in no way compromised the National Trust's own farming practices and policies.
"Choices given to MyFarmers were all acceptable to us, so although many of them made a significant contribution to the direction the farm went in, none of them were ever something we wouldn't be happy doing."
Subscribers were involved in 15 votes during the experiment.
These included opting to grow clover to help boost chalk pit fertility, which in turn helped boost the wheat yield in what was otherwise a difficult year, and choosing rare breed sheep over a more commercial breed.
Although this latter decision would not have been the choice of Mr Morris, he admitted it worked.
The rare breeds thrived, providing the farm estate with quality meat and wool, while "enhancing visitor experience" on the farm.
Circle of life
While MyFarm hit the headlines with some of its stunts - including "ram-cam" - a webcam fitted to a ram to show the mating habits of sheep, not all the "lessons" were as much fun.
Hundreds logged in to watch shire horse mare, Queenie, give birth to her foal live on webcam. The filly foal died moments later, eliciting many condolence messages on the website's discussion pages praising the efforts made by staff to try to revive it.
At the time, Mr Morris described it as an "awful and unexpected outcome", but said it showed viewers "the true, grim realities of animal husbandry".
The circle of life and death is intrinsic to running a farm.
"We learnt much along the way, like how to be straightforward when discussing things such as slaughtering animals for meat," he said.
Many MyFarmers expressed regret that the project was coming to an end, but agreed it had been a positive experience.
Jeff Taylor, from Ontario, Canada, joined MyFarm because his great grandfather had worked at Wimpole Hall in the early 1900s.
He said: "I loved the votes... and being able to have a say in the running of a place where my relations worked.
"[The project] even made the press and TV news here in Canada where there was quite a bit of interest shown."
"Farmer Moonshine" added: "My respect and understanding for our UK farmers has grown and grown throughout the project."
'Continued legacy'
The initiative was also supported by the National Farmers' Union (NFU) which described it as "an opportunity for a wider audience to see some of the competing priorities that 21st Century farmers have to manage."
The project cost the National Trust about £250,000 to set up and run the website, promote its ethos and cover the costs of a project manager.
"Funding never lasts forever though, and as a charity we have an obligation to use it where it is most needed," Mr Morris said.
"MyFarm has been the testing ground of how we communicate with people and its legacy will continue."