Peterborough and Stamford NHS Trust helped on £45m deficit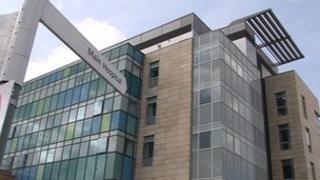 Experts have been called in after a hospital trust was deemed unable to clear a £45m budget deficit.
Monitor, the health sector regulator, is to send in a Contingency Planning Team to Peterborough and Stamford Hospitals NHS Foundation Trust.
The aim is to cut the deficit while maintaining patient service levels.
The trust said it had had debt problems since October 2010 but had maintained care quality while doing all it could to turn the situation around.
Monitor said the current board and staff have been successful in improving the operational and financial performance of Peterborough's City Hospital.
The hospital opened in 2010 and was built under a Private Finance Initiative (PFI) deal agreed in 2007 before the financial crash.
Managers said repayments for the large hospital under the deal were now "unaffordable" and the deficit could increase this year to £50m.
The Public Accounts Committee called in the management on Monday to explain the situation.
Chairwoman Margaret Hodge raised questions about the future survival of the hospital trust and said she was very concerned about an NHS report that led to the watchdog calling in experts to help.
'Unaffordable PFI scheme'
Monitor had agreed with the committee and said existing initiatives would not be enough to return the trust to financial sustainability.
"The problems are partly due to the unaffordable PFI scheme on which the trust embarked in 2007, but also to wider issues within the local health economy," Monitor said.
Dr David Bennett, chief executive of Monitor, said: "We have been working closely with Peterborough and Stamford Hospitals NHS Foundation Trust to improve its financial performance.
"The reality is that the trust has a significant underlying deficit and even if it achieves challenging annual cost savings it will continue to need substantial financial support from the Department of Health.
"It is therefore time for us as the sector regulator to step in and look for a solution that ensures services are provided for local patients on a sustainable basis.
"We have an open mind about the form that solution might take, but it must meet the needs of patients and taxpayers."
Peter Reading, interim chief executive of Peterborough and Stamford Hospitals NHS Foundation Trust, said: "This support from Monitor addresses the requirements the trust board identified in August 2012 in our summary financial plan.
"Indeed, the recent National Audit Office report said the trust's deficit was too great for us to resolve on our own, and called on us to work together with the Department of Health, Monitor and local commissioners on urgent action to help the trust return to financial sustainability.
"This solution requires a package of measures across the wider health economy of Peterborough, Cambridgeshire and Lincolnshire."